Tag Archives:
Wizard of Oz
There are few households that haven't heard of the Wizard of OZ, and the franchise has gone in a multitude of directions, most recently the major Hollywood film: Oz the great and powerful. There has also been the highly successful spin off book series, Wicked  by Gregory Maguire which has also been reworked into the highly acclaimed west-end musical. We've had two films, The Wizard of Oz and Return to Oz and the mini series aired on the Syfy channel Tin Man. All of these have bred a treasure trove of topes and imagery that can all be traced back to L. Frank Baum's The Wonderful Wizard of Oz. Each of these have contributed to the large Ozian cannon that we have been exposed to, but in truth, they are but the tip of an iceberg of Ozian literature that can be found right across our entertainment spheres.  It was this that first inspired me to go back to the source and question how has one story, transmigrated into so many different forms? What is it about the novel that gives us the need, or rather the inspiration to transform it into something new?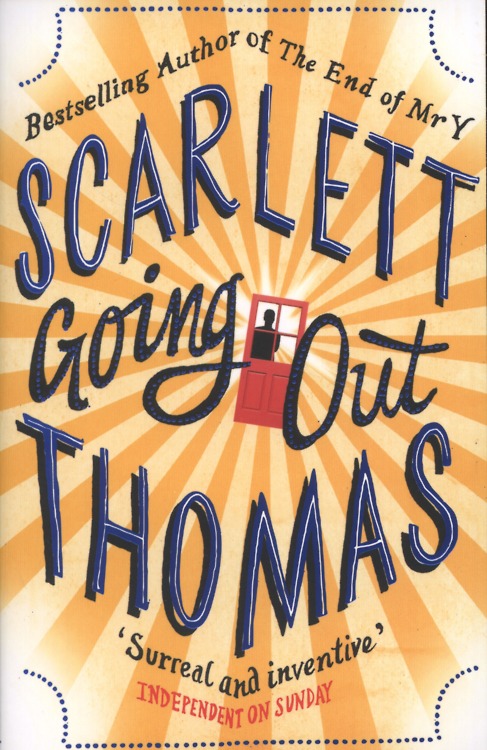 Going Out by Scarlet Thomas, is a strange novel, one that will enthral, confuse entertain and frustrate.
Based around the exploits of Luke and Julie(t) and a mishmash circle of friends. The novel sets you in the heart of Essex in the nineties. Luke is 25 and chronically allergic to the sun. Julie his neighbour and best friend is immobilised by an irrational fear of everything.  Thrown into the mix are an assortment of equally troubled characters who all must go on a daring, though fraught journey to see a healer who claims he can heal Luke of his affliction. Along the way, they each must face their inner demons, when their deepest desire is to just to stay at home. Going Out proves to be a funny read that will take you on a roller coaster ride the nostalgic 90's Essex which proves, despite first reservations to be more entertaining than thought possible.